Full Service Temporary Tattoo Parlor Proudly Serving Las Vegas Since 2016.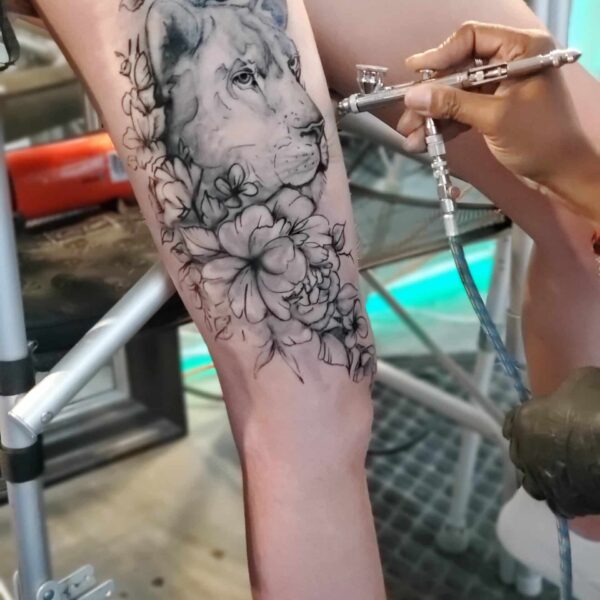 Our Airbrush Tattoos
This place is amazing! The vibe was great- people were even better. Our faux tattoos lasted for over a month! Highly recommend 👌🏽
Great people and great work!
B85 Mcqueenz
April 11, 2023
I took my two 14 year olds here to get their dream tattoo experience without out the pain. The owners were beyond amazing. The whole experience was a vibe the kids said this was the best part of the trip. They gave us aftercare instructions and a kit to make the tattoos last to the full life span. I would recommend this place to any new Vegas traveler. If you have teenagers this space is definitely the coolest my teenager can't stop smiling after our visit
Steve Cuthrell
April 5, 2023
Crazy talented artist
Chad Clayton
April 5, 2023
Very nice people with excellent service very satisfied with there work!
I don't know, but the place was empty when I went. I'm not sure if they just moved or went out of business. They don't answer calls either.
Jeanne wiltz
March 12, 2023
Love their work. Very friendly and was very kind. Amazing work and great job on the custom design would recommended !!
Michael Gramson
March 11, 2023
Definitely the best place to go for a temporary tattoo. Owned by very kind, professional, and skilled people.
cj wenzel
January 1, 2023
Grace is Amazing, I love being her canvas
I got my first temp tattoo at pizza fest and came back for the second time. I love my Grimes tattoo! It's cool to know that they will be expanding their catalog. I would love to see more dragons, spirited away, and even avatar the last Airbender tattoos! I will definitely come back!
Get in Touch
Hello! Got Questions? We want to hear from you! Let us know if you need temporary tattoos for an event or a production or if you just want to come get some awesome ink from us at our studio just for the hell of it!
ADDRESS
3850 Vanessa DR
Las Vegas, NV 89103
PHONE
Phone: (702) 509-4990
EMAIL
contact@tatbar.com
Follow Us